Experience hands-on DEMOs of superior transmission, remote production, on-air replay, playout solutions and FAST Streaming TV.
Enter passcode NY9625 during NAB NY registration for a free Exhibit Hall pass on us.
Request your appointment with us today for your personal demo.

Meet with us at our TVU Cloud booth #1318 next to the Content Theater & Tech Chat area at the Javits Center from October 19-20.
We've got live demonstrations of our latest cloud innovations and IP solutions that are reinventing the media supply chain. Learn how to monetize existing content by tapping into the growth of FAST Streaming TV. If you're looking for REMI At-home, we can show you how you can save money and run a professional multi-camera video production that looks like you're running it on-location!


Reinventing the media supply chain.
The TVU cloud eco-system will give you the flexibility to produce more events and launch more channels, while integrating seamlessly into your existing workflows.



Go bigger, go remote.
Learn how you can unleash your potential using TVU's remote production solutions. Cover more stories at less cost with unparalleled stability.

Tap into FAST streaming TV
Easily create, manage and monetize unlimited live free ad-supported streaming digital channels for connected TV, OTA, OTT with the 24/7 Channel solution.

See the most innovative cloud and IP solutions for 5G transmission, video production, distribution and monetization
You no longer need expensive traditional production methods! Now you can synchronize multiple live video sources for powerful production in the cloud. Find below a
small teaser of the latest innovations

in

TVU solutions

that we will be demonstrating at NAB NY.
Multi-channel REMI production with cellular networks aggregating up to 12 connections.
The easiest way to manage and launch your 24/7 live digital channel for live broadcasting. Sell the commercial inventory of your Channel or let us do it for you with a risk FREE full service fast channel.



Create fully synchronized multi-camera instant replays for sports & official video reviews with this handheld wireless replay solution.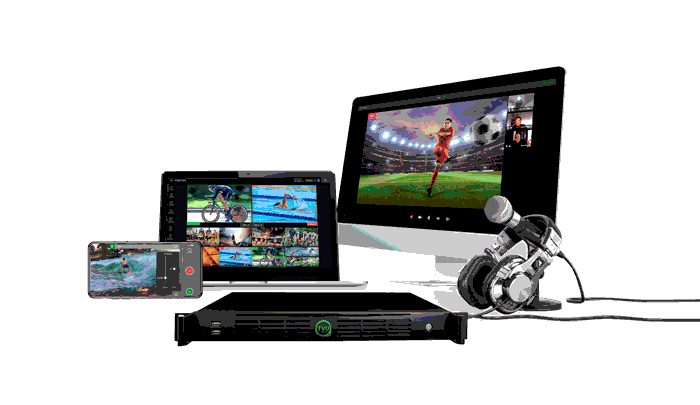 Get in touch

and let's discuss how we can simplify your logistics, optimize your resources and produce more live, more efficiently than ever.